Discuss on Tinnitus Talk Forum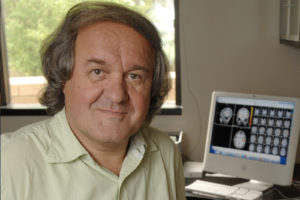 Tinnitus Talk spoke with Dr. Rauschecker, one of the most eminent researchers on tinnitus. We're excited to launch our podcast series with this highly engaging interview, a must for anyone who wants to understand how tinnitus works in the brain and how we can get to a cure.
The interview covers a wide range of topics, from Dr. Rauschecker's own experience as a tinnitus patient to his theories on how tinnitus manifests in the brain. He hypothesizes on links with other brain disorders like depression, and the role of stress in triggering tinnitus. Dr. Rauschecker is hopeful about the prospect for a cure, but also talks about the obstacles to overcome, specifically the dire lack of funding for tinnitus research. We also discussed the role that patient communities can play in resolving this.
Dr. Rauschecker is currently raising funds for a new study into animal models for tinnitus. You can donate or learn more here.
The idea that the limbic system is involved in tinnitus is not new, of course. […] The conventional explanation is that this a reaction to the tinnitus. […] But our theory turns this around 180 degrees: What if the broken gating mechanism is the cause of our perception of tinnitus?
Unfortunately, the funding levels of funding agencies are frighteningly low. I don't think they understand the importance of that disorder. […] I'm always shocked how little for example the Department of Defence or Department of Veteran Affairs here in the US is doing.
One reaction I often get [when I bring up tinnitus in the neuroscience community] is: 'It's not as important as Parkinson's or Alzheimer's. You can't die from tinnitus.' And I say: 'Yes you can, if you commit suicide.' But it's always considered a minor disorder.
Discuss this episode on the Tinnitus Talk Forum, or submit a reply below.