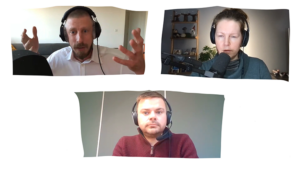 We hear figures of up to 20-30% of the population supposedly having tinnitus, but is tinnitus really that prevalent? In this episode, we learn that such data is based on population studies where people are asked questions like "have you heard ringing in your ears for more than 5 minutes in the past year?". That's not helpful data. When it comes to finding better treatments, we need to zoom in on chronic, severe tinnitus.
We talk about the need for bigger and better data for tinnitus with Christopher Cederroth, a researcher who focuses on the genetic underpinnings of tinnitus, and David Stockdale, the chief executive of the British Tinnitus Association.
Existing data from biobanks has already taught us a fair bit about tinnitus, for instance that chronic tinnitus tends to be persistent over the years. But we need better tinnitus definitions than the "5 minutes" one, we need larger sample sizes, and higher quality data on for instance hearing profiles. You can take part and contribute your data too!
Want to see a video version of this interview – and at the same time support our work?
Become a Patreon for as little as $2/month!
Want to read a transcript of the interview?
We have prepared one for you. Click here for the transcript (PDF).
In the UK, the National Institute of Clinical Excellence has recognized tinnitus as a symptom of both COVID and long COVID.
Sometimes cohorts ask the question: 'Have you ever had tinnitus in your life that lasted more than five minutes?
I think even the prevalence of those that have severe tinnitus that is chronic, constant, and severe is even lower than what we think now, and that should be the target population.
So already here we can say, tinnitus with or without hyperacusis, these two groups are different.
Discuss on Tinnitus Talk Forum
Or share your thoughts on the episode below!