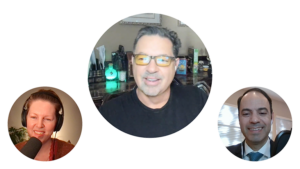 Meet Brian Fargo, a successful video game developer who – when he developed tinnitus – tried every imaginable treatment to get rid of it, to no avail. Frustrated at the lack of effective treatment options, he decided to put his money where his mouth is.
He funded the research of Dr. Hamid Djalilian from UC Irvine, who is testing electrical stimulation of the inner ear to alleviate tinnitus. His results so far seem very promising, with some patients even getting rid of their tinnitus completely.
This episode is all about one man's journey to come to terms with his tinnitus and help others by providing much needed research funding.
Want to see a video version of this interview – and at the same time support our work?
Become a Patreon for as little as $2/month!
Want to read a transcript of the interview?
We have prepared one for you. Click here for the transcript (PDF).
I've always run my own companies and, you know, as an entrepreneur there was always a way around every obstacle. You could fix everything somehow. And this is probably the first time in my life I hit something, and I just can't make it go away.
So, then we tried the ear, the outer ear, the front of the ear, the ear canal and then finally we tried the ear drum itself and still, while we were able to get the tinnitus to quiet down in a very small fraction of people, it wasn't enough that we would say this is really doing something.
I want to be able to make the tinnitus go away completely, and this is the only way we've been able to make it go away completely, at least temporarily.
Discuss on Tinnitus Talk Forum
Or share your thoughts on the episode below!