Discuss on Tinnitus Talk Forum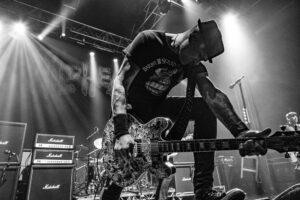 How do musicians deal with the fact that they are especially prone to getting tinnitus? Is there enough awareness on this? These are some of the questions addressed in this episode.
Tinnitus Talk spoke with CJ Wildheart, professional rock musician with tinnitus, and guitarist for The Wildhearts. He talks candidly about how live and loud playing for many years caused his tinnitus, how this has affected his musical career, and the care he now takes to protect his ears.
We were lucky to have Eddie Clarke (known as Ed209 on the Tinnitus Talk support forum) arrange and conduct the interview with CJ. Ed is himself a professional music teacher, and in the second half of this episode, our podcast host Sean spoke with him about his personal experiences, musicians and tinnitus, and questions around noise protection.
It was intense, it would keep me up, but … I play in a rock and roll band, so I could self-medicate.
You know that whole thing of all men play on 10, well no they don't, all men play on about 0.5 now.
The whole recording process has changed. […] Those ridiculous volumes, that doesn't happen anymore.
It's an intense feeling for some people, the anxiety and guilt that they feel for causing that on themselves.
There's gonna be noises in your life, you can't be afraid of every loud sound out there, but there's a huge difference between a slamming door or a toilet seat falling down and going to a club or a concert; they're worlds apart.
Discuss this episode on the Tinnitus Talk Forum, or submit a reply below.