Discuss on Tinnitus Talk Forum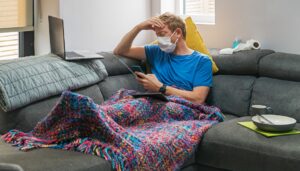 This episode is quite different than what we've done before. You'll hear from four people with tinnitus about how the current situation, being quarantined, has affected their lives and their tinnitus. One of these people was infected with the Coronavirus and describes how it affected his entire family and impacted his tinnitus.
We also spoke with a researcher, Raj Shekhawat, about how the crisis has affected tinnitus research because of clinical trials being stalled. And we spoke with Alan Hopkirk, an audiologist who has now shifted his patient support efforts completely online.
Through this compilation episode, we are aiming to connect with all of you out there who are feeling isolated!
Do you like Tinnitus Talk Podcast and would you like to support our work?
Become a Patreon for as little as $2/month!
Would you like to read a transcript of the interview?
We have prepared one for you. Click here for the transcript (PDF).
In regard to my tinnitus, it was kind of a good thing, you know, because when I'm at home and you're working from home, you can have music playing in the background as loud as you want. – Sean
After about a week it started to go back to its normal level (which is loud). – Ed
So, now that we're doing this [using online support services], we're finding actually it's very successful. – Allan Hopkirk
Please look after your mental health and physical health, try and get out of the house if you can, go for some walks if you can, try and reach out to people! – Raj Shekhawat
Discuss this episode on the Tinnitus Talk Forum, or submit a reply below.