Discuss on Tinnitus Talk Forum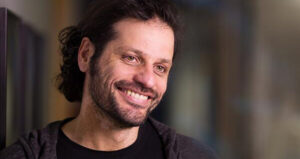 A drug to quieten your tinnitus. It's what most people struggling with tinnitus desire. We had the pleasure of interviewing Thanos Tzounopoulos, PhD, director of the Pittsburgh Hearing Research Center, on his work to develop just such a drug.
His work builds on the previously somewhat successful off-label tinnitus drug Retigabine (Trobalt). That drug was taken off the market due to severe side effects. Thanos is now attempting to re-develop it, without the side effects, and better targeted at the source of the neural hyperactivity perceived as tinnitus.
In this episode, we speak extensively about Thanos' theory of how tinnitus is generated in the brain and the role of (broken) potassium channels in this. He explains all the trial and error that went into re-developing the drug and speaks about the upcoming phases of research needed before the drug can come to market.
Do you like Tinnitus Talk Podcast and would you like to support our work?
Become a Patreon for as little as $2/month!
Would you like to read a transcript of the interview?
We have prepared one for you. Click here for the transcript (PDF).
Oh, I have tinnitus. […] You know, I can concentrate, I can focus, I can keep going on with my daily activities, but there are times where it is almost louder than your voice.
Somehow these channels are not operating optimally [..] and they do not allow the potassium to come out and that's why […] cells fire which are not supposed to fire.
The bottom line is that tinnitus is a plasticity disorder in my mind. There is peripheral damage […] that leads to central reorganisation to compensate. […] If we tweak the system now by using a drug that would quieten these neurons, you'd give it a chance for the system to recalibrate.
In the next year or two we should be able to 'de-risk' everything that we know and take the drug to clinical trials. […] After that, frankly, I do not know.
Discuss this episode on the Tinnitus Talk Forum, or submit a reply below.