Discuss on Tinnitus Talk Forum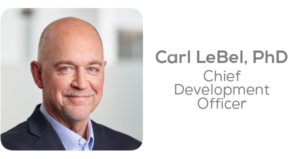 The company we interviewed for this episode, Frequency Therapeutics, is the subject of the most active thread on the Tinnitus Talk forum, with nearly 1 million views. So of course, we wanted to hear from them directly!
Frequency Therapeutics is working on a new hearing regeneration treatment. Preliminary results suggest the drug might work particularly well to improve speech intelligibility, something which traditional hearing aids have not been able to achieve.
We spoke with Carl LeBel, PhD, the company's Chief Development Officer, about how the drug was discovered, whether it might benefit tinnitus, and why speech intelligibility should be the primary measure of hearing. We also touch on the burning question of when FX-322 might hit the market.
Do you like Tinnitus Talk Podcast and would you like to support our work?
Become a Patreon for as little as $2/month!
Would you like to read a transcript of the interview?
We have prepared one for you. Click here for the transcript (PDF).
We think this is just a huge unmet medical need and we're glad to be kind of where we are right now but want to go fast.
Based on our Phase I study that we did in 2018, we see this remarkable improvement in particular in speech intelligibility in many subjects.
We've heard it described as hidden hearing loss, but it's only hidden because people haven't been looking in the frequency range that we think one needs to look.
Discuss this episode on the Tinnitus Talk Forum, or submit a reply below.