Discuss on Tinnitus Talk Forum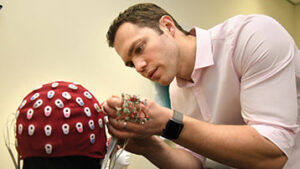 This episode is an opportunity to learn about what's going on in the brain of someone with tinnitus. Dr Will Sedley explains, in very clear and easy-to-understand terms, his own theory on the mechanisms underlying tinnitus, as well as the main other theories in the field.
We also cover topics like: the factors that trigger the onset of tinnitus, whether there are many different causes of tinnitus or really only one, the analogy with other conditions like chronic pain, the reliability of animal models, the need for an objective marker of tinnitus, and the thorny issue of whether tinnitus subtypes really exist.
Understanding the origins of tinnitus is key to developing better treatments, which is why we'd like to see more neurologists follow Will Sedley's lead.
Do you like Tinnitus Talk Podcast and would you like to support our work?
Become a Patreon for as little as $2/month!
Would you like to read a transcript of the interview?
We have prepared one for you. Click here for the transcript (PDF).
Once you've recognised it once, it's very hard to 'unlearn' something, to forget it, or to no longer recognise it.
If your measure doesn't actually reflect tinnitus, but something else, and then you come up with a medication that you give to animals and it normalises it, you may be treating something other than tinnitus and that would be one of several possible reasons that treatments that work in animals often don't seem to work in humans.
The thing I do occasionally take a bit of issue with is the argument that the treatments are there already and the reason they're not working is because of subtypes — that actually if we just matched our existing treatments correctly to the right people, then everyone or lots of people could be cured. A response I give to that is: show me the one person you cured and then we'll deal with why we're not curing everybody.
Discuss this episode on the Tinnitus Talk Forum, or submit a reply below.