Discuss on Tinnitus Talk Forum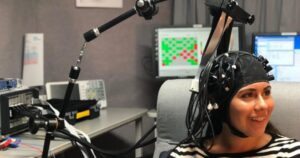 A major obstacle to developing better treatments for tinnitus is the lack of a test or measure that can objectively assess whether someone has tinnitus and how severe it is. Making tinnitus measurable allows researchers to more easily assess the effectiveness of new treatments and meet the expectations of regulators in order to get those treatments to market.
We spoke with Mehrnaz Shoushtarian (PhD) from the Bionics Institute in Australia, who are working on an objective measure of tinnitus based on Functional near-infrared spectroscopy (fNIRS) and a machine learning program. They believe that their technique will not only be able to distinguish whether someone has tinnitus or not, but also how loud it is.
We cover the technical ins and outs of the objective measure, the underlying theories the work is based on, the future commercialisation of the technique, and the ultimate impact the Bionics Institute is hoping for.
Do you like Tinnitus Talk Podcast and would you like to support our work?
Become a Patreon for as little as $2/month!
Would you like to read a transcript of the interview?
We have prepared one for you. Click here for the transcript (PDF).
Without an objective measure it's difficult to know what treatments are actually affecting which parts of the brain and are actually working or not. So, having an objective measure is an important step in developing reliable treatments.
Some of the signal features that we have looked at correlate well, for example, with how loud they have rated their tinnitus but not so well with how annoying they rated it, which is promising because it suggests that we can separate those two effects with the recordings that we are doing.
A challenge that we are working through at the moment is that we need more funding and more testing sites. With more funding, we can set up testing sites in different locations and be able to collect data faster.
Discuss this episode on the Tinnitus Talk Forum, or submit a reply below.