Discuss on Tinnitus Talk Forum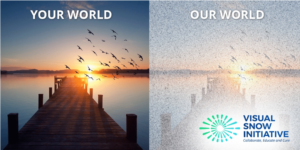 Visual snow is a poorly understood condition. The patient experience is often one of being misunderstood, and research is in its infancy. What can be done? Two pioneers in this field, patient advocate Sierra Domb and neurologist Dr. Peter Goadsby, talk about their incredible experiences in trying to push the envelope for visual snow sufferers.
Much of this sounds eerily similar to the tinnitus experience, and we spoke extensively about the analogies between the two conditions. Both are invisible illnesses, both are related to sensory perception, both exist on a scale of severity, both are little recognised and severely underfunded.
Learn more about visual snow through the highly informative resources offered by the Visual Snow Initiative.
Do you like Tinnitus Talk Podcast and would you like to support our work?
Become a Patreon for as little as $2/month!
Would you like to read a transcript of the interview?
We have prepared one for you. Click here for the transcript (PDF).
It's one thing to have a bad problem. It's a whole other thing to have a bad problem that people tell you doesn't exist.
It is a continuous, low-level, non-formed signal which has some variation but it's fundamentally there all the time. […] If I then said I was talking about tinnitus you wouldn't be entirely surprised.
For a lot of people it's very emotional so they have a lot of passion sometimes when they speak, but I've had to myself learn how to tone down the emotion and be pragmatic and when I speak use my words wisely to reach people, you know?"
Discuss this episode on the Tinnitus Talk Forum, or submit a reply below.