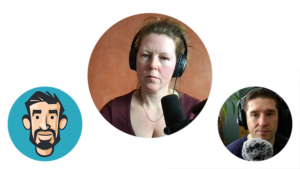 We all experience tinnitus differently. In this episode we speak with Steve and Sean about their personal experiences. They share their darkest moments and how they moved beyond them, providing valuable tips and tricks. How do you deal, for instance, with a lack of understanding from others?
We also discuss the concept of habituation as a scale, rather than an end point, and how it's harder for some people than others. Is there any point in seeking medical help? And how should we value new treatments? We discuss the importance of finding what works for YOU, which might not be the same as what works for someone else.
This open and honest discussion is the first of more personal stories to follow!
Want to see a video version of this interview – and at the same time support our work?
Become a Patreon for as little as $2/month!
Want to read a transcript of the interview?
We have prepared one for you. Click here for the transcript (PDF).
I thought about it in small victories, where it's like: Oh, I watched a 30-minute show and I didn't think about it once, and then from there, it increases in time to a couple of hours.
There was a GP who asked me: Are you sure you have tinnitus? Which felt like questioning my sanity or something.
There are people who will say that 'this works' […] but there is not one thing on the face of this planet that works for everybody. It works for some, doesn't work for others.
And this is the struggle you have. You show—imagine you get an advert on prime time, you show somebody, you show the tinnitus, you show what happens; your next video is a child in a war-torn country, and then after that you've got a donkey. A person with tinnitus is long forgotten…
Discuss on Tinnitus Talk Forum
Or share your thoughts on the episode below!