Discuss on Tinnitus Talk Forum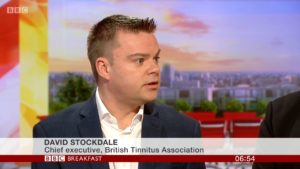 Tinnitus Talk spoke with David Stockdale, the chief executive of the British Tinnitus Association (BTA). We're very excited to have David on for episode 2 of our podcast series!
David frequently visits TinnitusTalk.com and engages with the tinnitus community through us and other channels. His dedication and drive to represent the needs of the community clearly shines through in this interview.
David talks about his drive to accomplish the BTA's vision: "A world where no one suffers from tinnitus." We also addressed questions like: How can tinnitus associations move the research field forward? How do they convey the tinnitus experience to the broader public? What are the pros and cons of promoting certain treatments?
I'd love to pack up the BTA one day and say: We've done it, we've found cures and we don't need the BTA anymore. That's what drives me.
We don't have those [objective] measures in place that would enable the research to really jump forward.
Tinnitus is easy to dismiss, because many people have experienced it short-term and then they associate that as being the same as what others are experiencing, which it's not at all.
The fact is that tinnitus costs the UK over 2 billion pounds a year; it's huge.
We don't promote TRT. […] My personal opinion on TRT is: the world has moved on a little bit.
Discuss this episode on the Tinnitus Talk Forum, or submit a reply below.